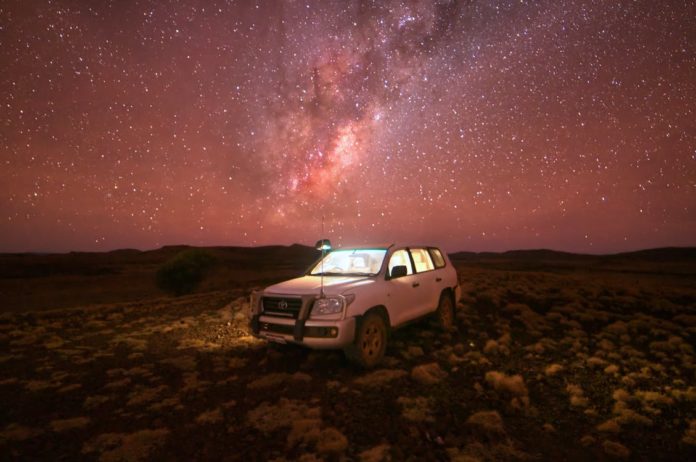 Why install a snorkel on your Toyota LandCruiser?
A snorkel can be installed for a variety of reasons. It can simply be for adding aesthetics to your rig, or more likely because you have technical needs for a raised air intake. Adding a snorkel offers a trail of benefits for any 4WD. Some of the main benefits of getting a snorkel for your four-wheeler include enhanced performance, minimized abrasion rate inside your engine, improved fuel efficiency, and less air filter maintenance.
Let's consider the difference between an aftermarket Toyota LandCruiser snorkel versus the original air intake. Generally, the original air intake inlet of any production vehicle is located beneath its hood or bonnet.
A snorkel on a vehicle extends the air intake system and relocates it higher up near the roof of the truck. While offroading, particularly in dry places these 4WD trucks can kick up a lot of dust. The snorkel's elevated position helps it draw more clean and cooler air for your vehicle to breathe. Up higher from the ground, the air that it draws has fewer contaminants and dust particles compared to drawing air at the bonnet level close to the hot engine. Adding fender flares to your Toyota 4×4 Pick Up or SUV also helps prevent the tires from throwing up excessive dirt. But in dry places, the air will still get cloudy with fine particles. Not only does the raised air intake guard against dirty air entering your air filter, it also prevents water from entering. While 4-wheeling through water crossings, mud pits, deep riverbeds, high tides, etc, water can flow under the hood and get drawn into a normal air intake set up. The water would effectively make its way through the air filter into the engine which is far from ideal! So a raised snorkel on your Toyota LandCruiser J70 or any 4×4 offroad truck is very effective at keeping not only dust out of your engine internals but also water.
Understanding The Role of a Snorkel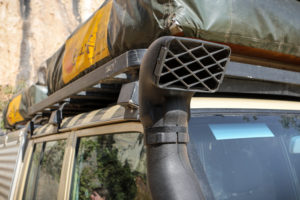 To keep your engine running, you essentially need fuel, air, and spark (or simply heat of a glow plug if a diesel). You can keep the fuel situation under control fairly easily by keeping an eye on the gauge. What is less predictable is what water hazards you might encounter while off-road. Timing of tides can be tricky! Seasonal floods can be unexpected! Water levels can change drastically with the weather! Without a snorkel on your 4WD truck, you risk water entering the engine via the conventional air intake under the hood or bonnet.
Since a vehicle needs a continuous supply of both fuel and air to keep running, any disruption to the supply can stop your vehicle immediately. If the truck sucks water up and stalls or dies completely while crossing over a creek, waterhole, or cascade, you can get yourself into some serious trouble. A river could gain control of the truck's lost momentum and take it downstream. This can not only cause costly damage but can also be incredibly dangerous! And in a water or mud hole, your truck can sink unnecessarily if it stops running due to water being drawn into the intake.
Can you see the possibility of getting yourself into a situation anything like this? If there is any chance, you need to install a snorkel first before you risk your life or the life of your 4WD truck. By adding a snorkel, you lift the air inlet to an elevated level, through which your vehicle gets an uninterrupted supply of cleaner and cooler air that is much higher above any water level. It serves multiple other purposes as well:
 Since the lifted air inlet takes in more fresh air, the vehicle's air filters are relieved
from working overtime. You don't have to clean or change the air filter nearly as often.
 A snorkel improves the engine performance by allowing a more consistent flow of air by keeping the air filters cleaner. Inhaling cooler air far away from the engine improves performance also.
 A snorkel essentially prevents water, dust, microparticles, etc, from entering the vehicle's engine.
 As the function of the air filter is minimized with this cleaner air intake, the vehicle needs less maintenance.
 A snorkel looks cool on any offroad 4×4 truck! It adds to the look and appeal of a vehicle like the Toyota LandCruiser LC70. If you want to make your truck look like a real off-road rig, a snorkel is definitely required!
 Snorkels are mainly designed to improve the airflow supply to the engine. Snorkels designed for 4WDs essentially use the "ram air" effect which forces air into your intake manifold. Thus, you get improved vehicle engine performance.
Design Of The Snorkel
Snorkels with ram air effect face towards the front of the truck. So as you drive, gushes of air are forced down the throat of the snorkel. However, when the air conditions are severe, dusty roads, dusty environments overall, heavy rain or snowfall, the snorkel can be installed with its face towards the rear of the vehicle. However, this setup is only when weather conditions and environmental factors are extreme. Otherwise, the front-facing snorkel is preferred as it allows the engine to perform most effectively.
Snorkel in Rain
The structural and flow design of the snorkel allows it to keep rainwater from
collecting inside. Even if water enters, it cannot reach the air filter or engine directly due to the drain slots designed down the snorkel's ram walls, which drive the water out.
You can consider installing a Toyota LandCruiser snorkel for improved vehicle engine
performance. Not only that, but it is well-served even if it's just for style. And the most common reason to install a snorkel is for practicality when facing severe weather, environmental, trail, or road conditions. Visit your local 4×4 truck supply shop to check out what snorkels are available to suit your needs. Be sure to have it fitted by an experienced professional.