Ahh, fender flares! The unsung heroes of the 4×4 world, providing both practical and aesthetic benefits. As a truck enthusiast, you understand the value of adding fender flares to your ride. These extensions attach to the sides of your truck's fenders and provide extra coverage for your tires, protecting your truck from dirt, rocks, and debris while off-roading. Plus, fender flares give your truck a more aggressive and rugged look, making it stand out from the crowd.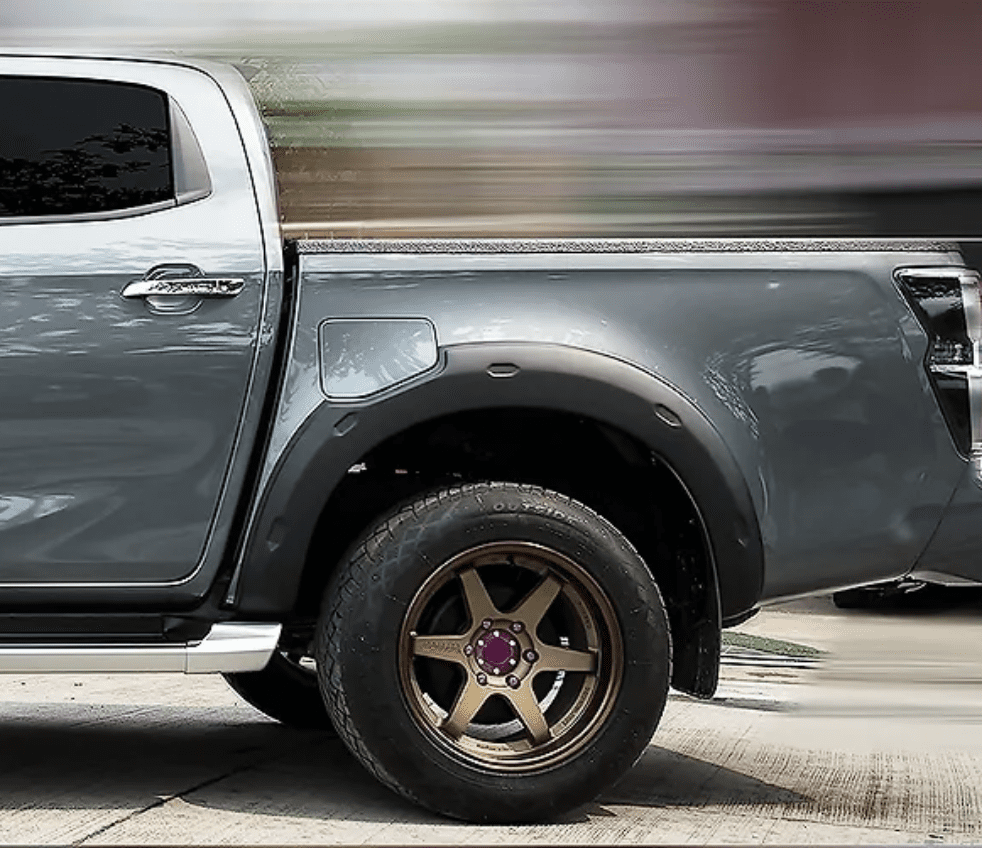 However, not all fender flares are created equal. There are various styles and materials to choose from, each with its own set of advantages and disadvantages. For instance, plastic flares are more common and typically more affordable, but they may not be as durable as their fiberglass counterparts. On the other hand, fiberglass flares are more resistant to damage but can be more expensive. They are also easier to repair and refinish than plastic flares.
Width:
One crucial factor to consider when choosing fender flares is their width:
-Wider flares offer more protection and coverage. They also make your truck look bulky and less streamlined, particularly if your tires aren't sticking out much.
-Narrower flares offer less protection but can give your truck a sleeker appearance.
It's essential to measure how much your tires stick out beyond the fender to determine the width you need. However, if your tires have an excessive amount of poke, there might not be any fender flares available wide enough to cover them. In that case, just get the biggest flares you can find. But keep in mind that it's illegal in most places to have tires sticking out beyond the fender. Nevertheless, most people report that law enforcement typically appreciates you doing your best to cover them.
Styles
Besides their practical benefits, fender flares can also add a personal touch of style to your truck. There are many designs to choose from. We have the rugged pocket style fender flare with exposed hardware in the face of the flares. Then there is the smooth style flare like factory ZR2s with the mounting hardware hidden for a cleaner look. Most flares come in black which goes with any color truck. Alternatively, you can color-match them to your truck's existing paint job or add a pop of contrasting color.
Proper Installation
When installing fender flares, it's crucial to ensure they're properly secured to your truck. Poorly installed flares can come loose, especially while off-roading. This risks damaging your truck and creating a hazard for other drivers. Avoid using fender flares that "stick on" with double-sided tape. These are often illegal as they just don't secure well enough to be safe.
Overall, fender flares are a worthwhile investment for any 4×4 truck owner. They provide essential protection for your vehicle's bodywork while also enhancing its appearance. Whether you're a serious off-roader or just want to add some extra style to your truck, fender flares are an excellent option to consider.
Just make sure to choose the right style, size, and material for your needs and ensure they're properly installed to get the most out of them. So, if you're looking to upgrade your truck's look and functionality, consider adding fender flares. They're a simple and effective way to protect your truck while giving it a more aggressive and rugged appearance. And if anyone asks why you added them, just tell them it's because you're a serious 4×4 enthusiast who knows how to take on any terrain with style!