5 Tips on How to Wash Your Truck
Your truck is your pride and joy, heck maybe it even has a name. No matter how old your vehicle is, keeping it clean and well maintained is a priority. Many people think that to get a truck clean, it's a matter of fetching a sponge and a bucket. We want to show you the proper way it should be done.
Never Wash the Truck When It's Hot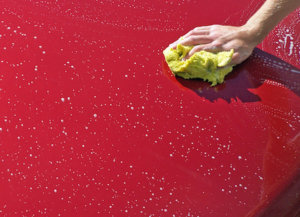 It might seem like a good idea to wash your truck on a beautiful sunny day, but this could mean problems. When it's too hot, the water and soap dries out quickly, leaving streaks and stains on the bodywork. Then it can be a more difficult job to remove these stains. While trying to get them off, you may cause small scratches and blemishes that will only get worse over time, especially with this practice.
Pick a cloudy day when it's warm enough for you to get a bit wet but not so hot that the truck will dry in seconds.
Lots of Soapy Water
The more soap and water you use on your truck, the better. It helps to prevent any minuscule surface scratches as the dirt glides off. If the surface dries out too much, it won't matter what sponge you're using. The grit and grime will work almost like sandpaper and create small scratches.
If you're using a high-pressure power washer, make sure that you have it on the low setting. Blasting your truck with a high-pressure spray might sound exciting, but any fine dirt particles will get pushed into the paint surface and might cause scratches. Too high of a setting on the pressure washer could also peel the paint right off!
Use the Correct Car Cleaning Products
There's a reason why car wash soap is in a different aisle to dishwashing liquid; it's not the same, not even a bit. Vehicle washing products are designed to be gentle on the paintwork of a vehicle, whereas dishwashing liquid is a very harsh soap that will most likely remove some of the sealants that protect the paint, and it will leave a residue on the surface.
Even if you're fortunate enough to have a ceramic coating on your truck, it doesn't mean that you can use harsh chemicals as even then you can damage your vehicle (source: https://carpro.global/blog/what-you-need-to-know-about-ceramic-coating/).
Use High-quality Sponges, Mitts, and Brushes
You get what you pay for, and in this instance, it might make the difference between your truck looking good for many years or looking aged before its time. Whichever items you prefer to use to scrub, make sure it holds a lot of soap and water. A good quality sponge will also ensure you don't leave swirl marks. Use a different sponge on the wheels than the body, because you don't want to transfer the dirt.
Dry it Quickly
Once you have washed and rinsed your truck, use a good quality water blade and remove the excess water off the body. Do a second round with a terry cloth or microfiber cloth to make sure it's as dry as you can get it. This will prevent unsightly streaks and water stains from droplets drying on the paintwork stopping your truck from looking shiny. A chamois also works very well to dry the vehicle before the water droplets become water stains on your paint.
Bonus Tip
After you have cleaned your truck, you should use an oil product such as Armor All on unpainted plastic parts of your vehicles. Both the soap and environment dries out these black plastics. They fade, going chalky or grey so need restoration with an oil product like this.
That's All Folks
These tips on how to wash your truck correctly will ensure that your vehicle's bodywork and paint lasts for many years. The fewer surface scratches on the body, the less likely the paint will chip and peel, and the less chance of rust forming in small holes. Your truck might be a robust and tough machine, but the body needs a more gentle touch.
Be sure to care for your vehicle as it's a significant investment. By using good quality products and the right techniques, your truck will be looking like new for many years to come.