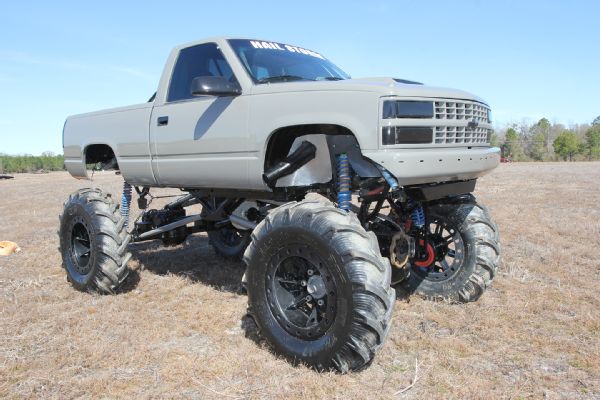 Man, these southern mud truck builds are just too good to not share! These classic Chevrolet Silverado and mismatched Ford F150 builds are just so awesome, virtually nothing left untouched. The massive yet tiny Suzuki Samurai is incredible as well! I hope you enjoy the following article as much as I do:
[ad_1]
When it comes to building a serious mud truck, there's no one-size-fits-all formula. However, there are some trends that seem to be very popular in certain areas of the South. The three features here all come from the southeast and have the height and horsepower needed to survive in some of the deepest 'bogs. While a Ford F-150, Chevy pickup, and Suzuki Samurai might not sound like they have a lot in common, this trio all have proven mud-conquering formulas.
Built To Bog
In just under two years, Cody Swalls transformed his '90 Chevy Silverado 454 SS pickup into the monster mudder you see here today. While the regular cab short-bed 454 SS trucks are hard to find in stock form, the 1500 here is a great example of starting with a solid platform. Swalls states, "I built this truck just to have a nice 'bog truck that I can play all day in." We say Swalls did a fine job of creating exactly what he wanted and needed.
Up front, you'll find a 2 1/2-ton Rockwell axle that has been relieved of its original drum brakes in favor of a custom pinion-brake setup. Using a Wilwood Dynalite caliper, the truck has no trouble stopping the massive gear-reduction differential. Steering is handled by a single hydraulic cylinder that's mounted behind the axle. To offer a touch of extra stability to the tall rig, a custom sway bar was integrated to work with the triangulated four-link suspension.
Just like up front, you'll find a Rockwell rear axle and a set of 18-inch-travel King coilovers out back. A set of chains are used to limit the suspension downtravel, while polyurethane bumpstops keep the axle from traveling too far up. Stopping the rear axle is a pinion brake kit from L&W Fab.
Hanging between the plated-and-boxed framerails is a SCS Gearbox, which is fit with a 2.5:1 ratio. This modest gear reduction is ideal for keeping the 49-inch-tall irrigation tires moving at speed. Sending power to the two military diffs are custom drivelines from Holder's Driveshafts.
Under the hood you'll find a GM 454ci V-8 that's been bored 0.30-over. The four-bolt-main V-8 was fit with a Comp Cams camshaft, Holley 850 cfm carburetor, Edelbrock intake manifold, and custom headers by Matt Smith from Exotic Exhaust and Fab. Along with a custom harness from K&R Performance Electronics, an MSD ignition was installed, which works with the Accel distributor and wires. Keeping the estimated 560 hp cool is a bed-mounted Ron Davis radiator equipped with two electric fans.
Inside, the Chevy has been outfitted with a custom dash, which is filled with an assortment of analog gauges to monitor all of the rig's vitals. To keep Swalls safe, a 10-point cage was fabricated out of 1.75-inch, 0.250-wall DOM tubing. Securing him in place is a Corbeau suspension seat and five-point-harness belt system. While Swalls has a B&M shifter and quick-release steering wheel to keep his hands busy, the passenger gets a custom grab bar, which probably gets plenty of use!
The Details
Driver name/city: Cody Swalls/Dallas, GA
Occupation: Owner of Dentworks
Vehicle model: '90 Chevy 1500 Silverado 454 SS
Engine: GM 454ci V-8
Transmission: TH400
Transfer case: SCS Gearbox
Ratio(s): 2.5:1
Suspension (f/r): Custom 4-link w/18-in-travel King coilovers
Axles (f/r): 2 1/2-ton Rockwell
Axle ratio: 6.72:1
Wheels: 24×8.5 Plan B Fab
Tires: 14.9×24 BKT 117
Miss Matched Ford
Heather Guynn is a pediatric emergency room nurse by day and mega truck driver on the weekend. Before you go sending in your love letters, know that Heather is happily married to her husband, Harold. Heather acknowledges there are not many female mud-truck drivers, but she doesn't let that stop her from the adrenaline and excitement she gets from getting behind the wheel. She's been 'bogging for about five years, and over that time, her truck of choice has evolved along the way. Her '96 Ford F-150 is a sum of mismatched parts, which her husband has worked diligently to turn into a reliable rig.
In place of the Ford's stock frontend rest a 2 1/2-ton Rockwell axle. A custom coil-sprung suspension raises the pickup, while a triangulated four-link keeps the axle in place. Steering duties are handled by a single fully hydraulic steering ram.
To get a little more life out of the rear driveshaft, Guynn rotated the rear Rockwell axlehousing. With the hubs flipped out on the rear axle, the Ford has a bit of extra stability, which helps with the tall ride height. Stopping the pickup is a custom pinion-mounted disc brake.
Wildly popular due to its strength and ease of changing gear ratios, you'll find SCS Gearboxs as a main stay for serious 'boggers and mega trucks. This aluminum SCS case is fit with a 2.42:1 ratio, which works well with the shorty (18-inch) Powerglide transmission.
The Guynns stayed loyal to the Blue Oval when it came to the big-block powerplant. The 502ci V-8 engine was built by Highhouse Performance and pumps out plenty of power to move the deep-groove tractor treads down the line. This off-road–only mud truck has its custom DEC headers routed directly out of the hood.
A clean, functional, and safe cabin is what you'll find when you open the door on the mid '90s F-150. A custom cage, along with suspension seats with five-point harnesses, keeps the nurse protected behind the wheel, while Auto Meter gauges help her oversee the truck's parameters.
The Details
Driver name: Heather Guynn
Occupation: Nurse
Vehicle model: '96 Ford F-150
Engine: 502ci Ford V-8
Transmission: Powerglide
Transfer case: SCS Gearbox
Ratio(s): 2.42:1
Suspension (f/r): Custom 4-link w/coil springs
Axles (f/r): 2 1/2-ton Rockwell
Axle ratio: 6.72:1
Wheels: 24×8.5
Tires: 14.9×24 BKT 171
Sami Truck
Chad Stewart first got inspiration for his pickup truck Suzuki Samurai by spotting one in a 2010 issue of 4Wheel Drive & Sport Utility magazine. The truck he saw in the magazine was from the Philippines, so Stewart knew he would have to create one of his own. Using body panels from a '55 Chevy truck, Stewart fabricated the bed you see today. The Mega Suzuki has undergone many stages since its original build, and as Stewart finds new weak links, he upgrades accordingly. His current goal is to have the comparatively lightweight rig capable of trying bounty holes, which we think will happen soon.
After chewing through Toyota axles, Stewart upgraded with a set of 2 1/2-ton Rockwells. The steering front axle uses a 12-inch-stroke hydraulic front steering ram, which is located behind the passenger-side-drop diff. Stopping the top-loader axle is a Toyota-sourced caliper and disc modified to work on the axle's pinion flange. Eight-inch-lift coils intended for a Ford pickup were used to raise the rig, while a custom four-link suspension secures the axle in place.
Out back, you'll find a setup that nearly mirrors the front. The big differences being that this Rockwell is non-steering and the coils are 2 inches shorter. Stewart is currently having trouble keeping the rear axleshafts from breaking. This is partly accredited to his spirited driving and rear locker. His next move is to upgrade to a stronger set of Ouverson axleshafts, which he's sure will move his weak link somewhere else.
Since the engine is actually mounted in the bed, a transfer case from an M211 GMC 6×6 was mated to the 48RE transmission to get things moving in the correct direction. Splitting power to the Rockwell axles is a SCS Gearbox fit with a 4.7:1 gearset.
The 5.9L Cummins diesel engine was pulled from a wrecked truck with only 70,000 miles on the clock. The 12-valve diesel has been slightly modified to pump out more power, while remaining reliable. Keeping the engine running cool is a radiator from a '91 Dodge Ram.
The inside of the Samurai remains mostly stock, save for a few gauges and seats from a '93 Jeep Cherokee XJ. To make sure Stewart has a full day of playing in the mud, the Sami was fit with a custom 12-gallon tank.
The Details
Driver name/city: Chad Stewart/ Homerville, GA
Occupation: Rail Car Industry Welder
Vehicle model: '88 Suzuki Samurai
Engine: 5.9L Cummins 12-vavle turbodiesel
Transmission: 48RE
Transfer case (s): GMC M211 6×6/SCS Gearbox
Ratio(s): 1:1, 4.7:1
Suspension (f/r): custom 4-link w/Ford coils
Axles (f/r): 2 1/2-ton Rockwell
Axle ratio: 6.72:1
Wheels: 26×20
Tires: 23.1×26 Goodyear Titan Ag
[ad_2]
Source link For latest Fender flare and Jungle Fender Flare news visit us @ https://junglefenderflares.com/blog/news Check out our NEW SHOP and choose products you like