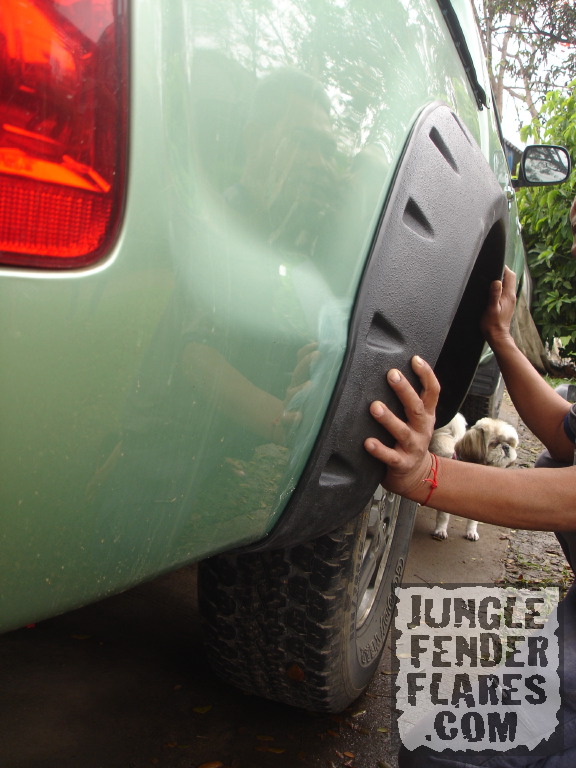 Bigger 2005+ Toyota Hilux mk6 Fender Flares Coming Soon –
NOW IN STOCK!
Now Available! See update below:
We are working on a new model of Bigger 2005+ Toyota Hilux mk6 Fender Flares , big fender flares (wheel arch extensions) for the 2005 and up Toyota Hilux known sometimes as the Vigo or simply mk6 depending on your country. We haven't worked out all the details yet, but these will be considerably bigger than the OEM fender flares offered from Toyota on the 4wd Hilux. As always, our prices should be much better than the competition and we still ship worldwide for a very reasonable fee! We are hoping to have these 2005+ Toyota Hilux Fender Flares available by the new year, although hopefully even sooner! We will be updating this page later as we get more details, and please also see the comments below for more information.
UPDATE! (January 21, 2012) Bigger 2005+ Toyota Hilux mk6 Fender Flares
-Find Pocket Style and Regular Smooth Hilux Wheel Flares in our online store. We ship to most countries worldwide.
These new Toyota Hilux Wheel Arch Extensions are now available. We are offering two styles the same size as each other. One set with a more conservative matte finish and the others with the more aggressive pocket style fender flares. Both of these styles stick out about 8cm (over 3 inches) from the stock fender. Both sets can be mounted through the underside lip of the flares into the inner fender lip, so you don't have to put holes in the face of the fender even if you choose the pocket style. Optionally, these wheel flares 'can' be mounted through the pockets. You can also just leave the pockets empty or even put fake bolt/screw heads in the pockets.
UPDATE! (May 8, 2012)
-We now also have the 2 small front bumper mounted fender flares available in smooth style.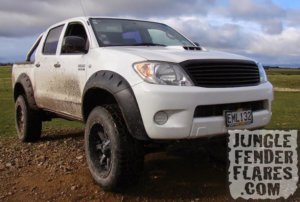 As you can see in the photo, the pocket-style Hilux wheel arch extensions on the right have a rough textured finish, and the regular style on the left are smooth.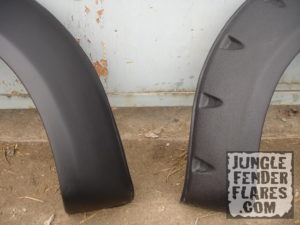 Here is a sneak peak of the rear fender flares being test-fitted. As you can see, these wheel arch extensions provide over 3 inches (8cm) of extra tire coverage which are some of the largest available for this model. And remember, Jungle Fender Flares ship worldwide at very reasonable rates!