[ad_1]


For build updates, newest to oldest, scroll down.
Project Redneck is our 1997 Jeep Wrangler TJ. It came to us needing some upgrades to make it trail-worthy and live up to the Jeep legacy. The Jeep had seen its fair share of dirt on the trails, but needed to get some more love in the areas it was lacking.
It was bought by one of our resident shop techs, Dean, in 2012. It came with a four-inch coil lift on the stock arms. It was very clean, and had no evidence of hard off-road use. Shortly after the Jeep was purchased, the connecting rod decided it did not want to stay in the motor and punched its way right through the side of the block. With the engine down, it was time to put in a freshly rebuilt 2.5-liter I4, which has about 15,000 miles on it now.
The idea for the project is to build a spunky and indestructible rock crawler, while still maintaining it as a daily driver. This will be the kind of trail rig that you never want to put on its lid, but know that if you did, you could always roll it back over and count on it to get you home. A street-legal King of the Hammers (KOH) competitor is the easiest way to explain the route we want to take.
Project Redneck came to us on small 31-inch tires. Offering negligible ground clearance out on the trail. The Jeep has a hard time going over rocks and objects with the belly pan hanging down. With this in mind, we knew exactly what we wanted to do to make this Jeep a contender out on the trail.
Off-roading is a hobby that gives owners options to either buy bolt-on parts, or fabricate their own. The latter is the route we will be going. We will be fabricating front and rear tube fenders, roll cage, and chassis cage. Why buy a part when we can make it ourselves and craft it to our liking?
We wish it was possible to make everything, but some items will have to be bought. Once the Jeep gets larger wheels and tires, as well as the added weight of the cage, we will need to upgrade the axles to allow them to handle everything we are throwing at them. Comfort may not be the top priority on the trail, but in our case, a coilover conversion will allow for better articulation and improve ride quality.
When off-roading, we need to be prepared for anything. The addition of a winch and other accessories will allow us to know that when the tires hit the dirt, it will be able to get off the trail or help another vehicle get unstuck. We want to make sure the Jeep is equipped with what it needs to allow the owner countless hours of fun.
Keep checking back with Off Road Xtreme as we tinker on Project Redneck and work towards creating a street-legal KOH competitor.
8/6/2016 – Off Road Nights – Temecula, CA
6/18/2016 – New Front Windshield
2/3/2016 – Cage And Aluminum Work
12/23/2015 – Metal Work
9/3/2015 – The Pursuit of More Traction, Redneck Gets Some New Shoes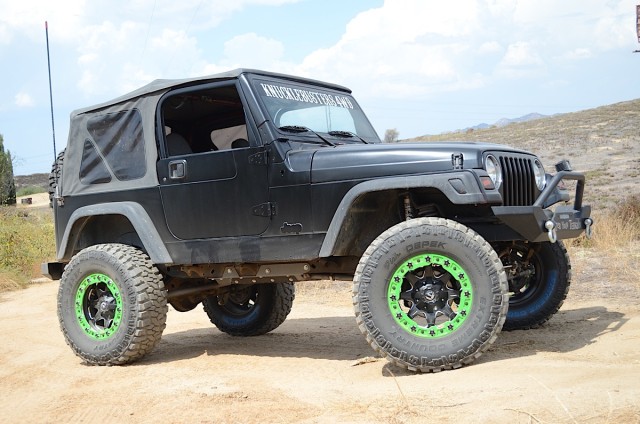 6/25/2015 – Our Red TJ Gets Help From The Aftermarket
5/15/2015 – New Bumpers, Soft Top And Lights Begin The Rebuild
5/1/2015 – Introducing Project Redneck
[ad_2]

Source link
For latest Fender flare and Jungle Fender Flare news
visit us @ https://junglefenderflares.com/blog/news
Check out our NEW SHOP and find fender flare models you need here!