Spring 2020 Update:
We now have fender flares that are direct fit for the true ZR2 S10 bedside. See the options at the bottom of this post.
Original Post:
As shown on the product page, there is some confusion about mounting our ZR2 fender flares on the Chevy S10 and GMC Sonoma pick up trucks. It turns out that many of these trucks have ZR2 front fenders but non-ZR2 beds. Obviously some of these pick ups were originally non-ZR2 models and people swapped the front fenders for ZR2 fenders (such as the one shown on the left below). In other situations, people have true ZR2 pick ups but have replacement non-ZR2 beds.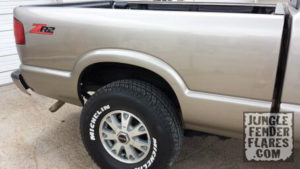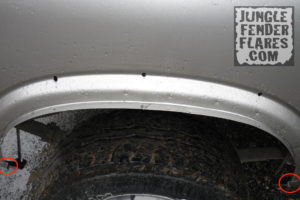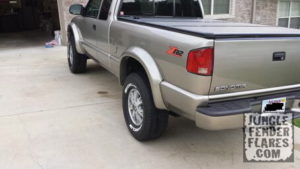 In any case, our front ZR2 fender flares will be a direct fit on any ZR2 pick up or Blazer. And if you have a standard non-ZR2 bed, then our rear flares will also be a direct fit. The truck shown to the right has ZR2 front fenders and a standard non-ZR2 bed. Our fender flares seen in our online store here are a direct fit with this mixed truck set up.
Actual ZR2 Bedsides and How To Adapt:
(2020 Update: No need to adapt anymore. We now offer fender flares that are a direct fit on the ZR2 bedside)
If you have a true ZR2 bed, then you will have to create some drop down brackets as shown below. A true ZR2 bed will have holes in the painted face from mounting the original ZR2 flares. It will also have a lip around the edge of the wheel well that is rolled outwards. Our rear ZR2 fender flares are a direct fit on the ZR2 Blazer. These pick ups have a higher cut larger rear wheel well opening though.
That being said, you can make some simple drop down brackets to mount these rear fender flares on the ZR2 bed. Compared to the Blazer, the wheel well is cut about 1 inch higher at the top centre. You will need to create a few small brackets to mount the flares approximately 1 inch lower than the lip of the wheel well. The small brackets will actually be quite similar to the factory ones at the lower sides of the wheel well. (
See factory brackets in photo of a ZR2 bedside
). Again, the front fender flares will be a direct fit. It is just the rear flares that require this extra work.
3 Options for S10 Pick Up Fender Flares: