5 Most Popular Trucks in History
There is a reason that trucks are historically very popular! They are a great and convenient vehicle to have. They are ideal for hauling, generally safe vehicles to drive, and capable of driving through even the harshest of weather conditions from snow to wind. While you may still need to visit glass.net to affordably fix a chip or crack in your windshield from time to time, trucks are generally very durable.
As you can imagine all of these benefits help trucks be one of the most popular types of vehicles in North America. In fact, millions of pickup trucks are sold in the USA every year, with thousands and thousands more being sold in Canada.
But not all trucks are created equal. While there are several high-quality trucks out there, there are a few that have risen to the top of the pack in terms of popularity. This article is going to go over 5 of the most popular lines of trucks in history.
Ford F-150
You can't talk about popular trucks without mentioning the Ford F-150. Not only is it the best-selling truck in the USA over the last few decades, but no American vehicle has also been more popular than the F-Series pickup. It is a good all-around truck that offers adequate size, power and towing, without being overly heavy or too bulky. It is versatile and thrives in many different situations.
There are a variety of cab styles available, different trims, and numerous engine choices. Some are aimed at offroading, others for more power, and some for those who want a more efficient truck. No matter where you are on the roads in North America, there is a good chance you aren't too far from a Ford F-150.
Dodge Ram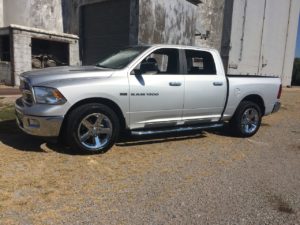 The Dodge Ram is a full-size pickup that is another incredibly popular option. It has large amounts of cargo capacity and is capable of hauling or towing just about anything you throw at it. It is a rugged choice, especially popular for those who like to get out and explore.
While it is a favorite on worksites across North America, it is great for the roads as well. There are many different trims and styles available, to fit the needs and preferences of a variety of truck drivers. The Dodge Ram has also recently been completely redesigned and is much more technologically sophisticated and modern than previous versions.
Chevrolet Silverado/GMC Sierra
When the long-running Chevrolet C/K series of trucks was discontinued, it was followed up by the release of the Silverado in 1999. Since then, the Silverado has been purchased millions of times and has remained one of the most popular trucks. It is a full-size truck, and there are half a dozen choices when it comes to powertrain and many trim styles, too.
From the interior to the size, to the style, the Silverado has several options for buyers to choose from. Like the F-150, this is a versatile choice for those who want something that drives smooth but can also do the heavy lifting.
While the GMC Sierra is technically a different truck, they are both made by General Motors and are very similar. Their engines, trim, prices, and even how they look are virtually identical in many cases.
Toyota Tacoma
If you're in the market for a midsize pickup truck, the Toyota Tacoma is worth a look. It is the most popular midsize, and offers several benefits for those who may want a truck, but don't need as much power. It has either a 4-cylinder or V6 engine and several different trims. The Japanese-made truck has been sold since 1995 and is still going strong.
The early models of the Tacoma were classified as a compact pickup but now firmly in the midsize category. Tacomas are well equipped and generally hold their value quite well over time, which is common amongst many different kinds of pickups.
Honda Ridgeline
Another midsize truck, the Honda Ridgeline is a popular choice for casual truck drivers. It often feels more like a car than a truck while driving it. This is due to the shape of the body, the suspension used, and a very roomy cabin when compared to other trucks, with larger beds. It also handles incredibly well.
While this isn't the option for you if you need a heavy-duty and powerful truck, it is perfect for zipping around town, while still having an unmatched hauling capacity when compared to cars or SUVs. It also has strong safety features, to keep you safe on the sometimes treacherous roads.
In conclusion, we hope that this article has been able to help you learn a little more about 5 of the most popular trucks in history.