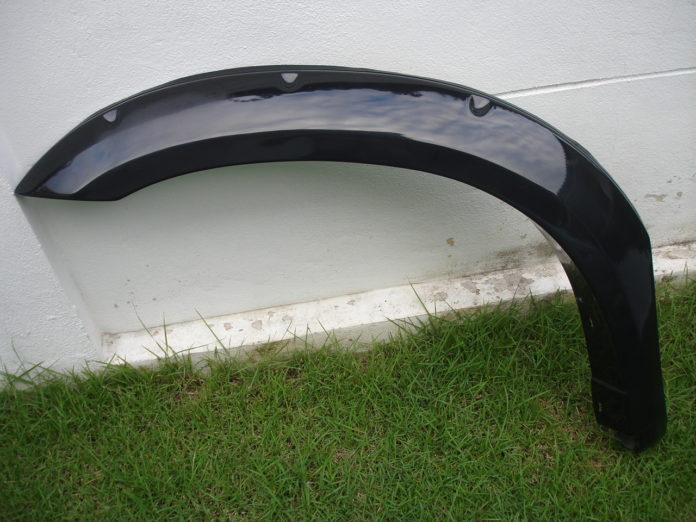 New D22 Product Update: May 2020


We now offer fender flares made specifically for the facelift model and of course still have the pre-facelift model flares available. As it turns out, the front fender flares need to be slightly different for the facelift model. Find them for both 2 door and 4 door model D22's in our online store here:
We now offer these 5 options for the Nissan D22:
Original Post:
Our pocket style fender flares are made to be a direct fit on the pre-facelift Nissan Frontier aka Navara D22 pick up truck. Compared to the facelift model with larger headlights, we have found that there is little difference specifically where the fender flares mount.
Have a look at the following photo comparing the pre-facelift model produced from 1997-2000 to the facelift model sold from 2001-2004, and until 2015 in select markets such as Australia and Chile. As you can see, the biggest change was the larger headlights.
The shape of the wheel well opening and the fender area around it where the fender flare mounts appears to be the same on both Nissan D22 models. The changes to the fender seem to include shortening the horizontal line along the side of the truck and of course accommodating the different headlights. However; both of these changes are not in the area where the fender flares mount.
The rear fender flares in our set will be a direct fit as the bedsides on both models are exactly the same before and after the facelift on the D22 Frontier/Navara. And by keeping the rear wheel wells exactly the same, it would be unusual if they were to change the shape of the front wheel wells as they would no longer match.
After having this discussion with others that have the facelift model, they have gone ahead and bought our pre-facelift Nissan D22 Fender Flares to install them on their facelift D22.
We have never heard back from them so I assume that they didn't have any issue installing them. If they did, I think we would have got word long ago! That being said, anyone that can send me photos and details about how the installation went on the facelifted Frontier/Navara will get a 10% rebate from the purchase price of these Nissan D22 fender flares. Feel free to contact us anytime to confirm that this offer is still valid!