Many people have been asking me recently if the 89-95 Toyota Pick Up fender flares will fit their 90-95 4Runners or Hilux Surfs. This is a two-part answer.
First of all, the front fender flares would fit perfectly as the Pick Up and 4Runner did share the very same front fenders in this generation.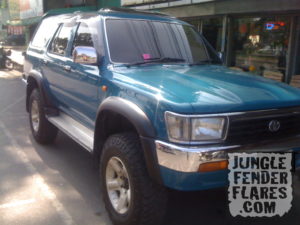 However; the rear fender flares are a different story. The 4Runner requires either 2 piece rear flares on each side due to the rear doors being very close to wheel wells, or narrow fender flares designed specifically for the 4Runner can be used. In regards to the 2 piece option, one piece of each rear flare must mount to the door so it can open with the door. The other piece would mount only to the most rear part of the wheel well. As stated before, other 4Runner fender flares are designed more narrow than the Pick Up fender flares so these 1 piece rear flares will actually fit on the body panel without interfering with the doors.
There is also another complication of using Pick Up fender flares on the 90-95 4Runner or Hilux Surf. The gas filler door on the 4Runner is in a different location than the Pick Up. The pick Up fender flares have a notch cut out to go around the gas filler door but this notch is not required on the 4Runner as the gas door is not located there.
For those outside of the US and Canada, the Toyota Pick Up uses the same body panels as a Toyota Hilux (mk3) made from 1989-1997 in most countries so this information also applies to wheel arch extensions on that ute.
Jungle Fender Flares supplies full sets of fender flares for both of these offroad trucks, so please find these respective items below in our online store. Remember, we ship worldwide!
Buy Toyota Pick Up Fender Flares
Buy Toyota 4Runner or Hilux Surf Fender Flares