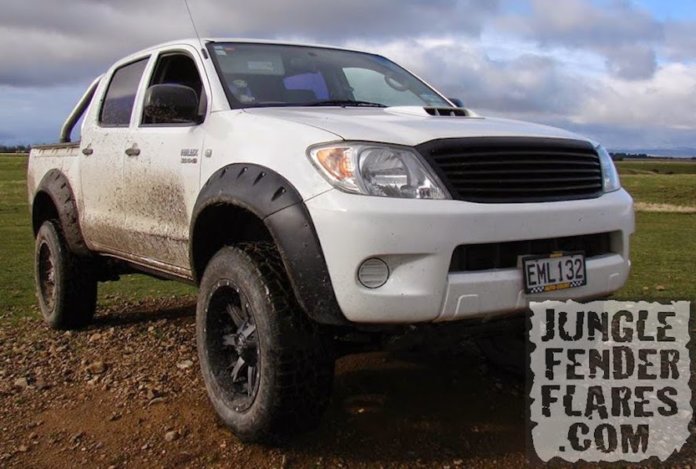 Set of 6 2005 – 2011 Hilux Pocket Style Jungle Flares
We now have a solution for people running stock bumpers but also want to have the full set of Pocket Style Jungle Flares on their 2005 – 2011 Toyota Hilux. Until now, we only offered this very popular Jungle Flare model in a set of 4. Being 4 pieces, it includes all 4 main front and rear flares but does not include small flares that mount to the original front bumper cover. This worked for many users since so many off-road trucks have after market steel bumpers installed, usually being ARBs of course. But for those that kept the original Toyota bumper, this simply wasn't a complete fender flare solution.
Now we are offering the 2 small front bumper-mounted flares from our non-pocket style set with the same textured finish as the 4 main pocket style flares. These small flares do not have the hardware pockets but they do match in size, shape and now textured finish. You can now simply click "Set of 6" on the product page for these pocket style Jungle flares. The photo below has the 4 main pocket style fender flares and the smooth front bumper mounted flares. But as I said, we are now finishing the small smooth flares with the same texture as the 4 main flares (unlike this photo).
For the facelift 2012-2015 Hilux, we already offer both full 6 piece sets as well as front Trayback sets made from ABS and they can be found in our online store here.